We are all having to adapt to a different way of shopping this year as all fairs and craft shows go online and makers and designers are having to discover new ways to sell and get their products out to their clients.
It has been a very different selling experience over the past few months for me and I have missed the interaction with clients and meeting up to discuss designs and commissions and also meeting other designers and makers within our creative community. Never before has an online presence with your products been so important and many of us feel we have spent more time on our laptops updating websites, engaging with social media and writing blogs than sitting at their bench.
However despite this we are all still making and creating new work. On the positive side lockdown has given me the time to develop an entirely new range using watercolour paper textures and intricate hinged mechanisms on a new collection of jewellery. Zoom chats with clients have been very successful  and there is the exciting prospect that when face to face selling returns next year we will in addition have both avenues to sell our work.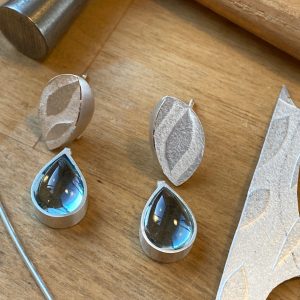 All shows and fairs are supporting their makers and I'm very fortunate to be taking part in two this month.
Firstly ELEMENTS: A Festival of Gold and Silver 6th to 8th November, a new show for me. Register with Eventbrite to join me in conversation in my workroom Saturday 7th 12.15 -1pm
And Secondly my annual show Handmade in Chelsea  goes online 10th-15th November.  Register at  interact.handmadebritain.co.uk to  join me on 12th November 12.30-12.45  to chat about my work for sale.
Please join me for either of the above events or contact me directly for any Christmas purchases or orders. It's not long to go now and we will soon be hanging up our stockings on Christmas Eve !!