Helen first approached me last year with an idea to transform her well-worn and loved engagement and wedding rings into a single statement piece to go alongside a collection of gorgeous rings she already had.
The engagement ring was an antique when her husband Mark originally gave it to her 39 years ago, the 9ct gold hallmark had worn off through wear over the years and a couple of the diamonds had fallen out. The wedding band had also become very thin and was stamped as 14ct.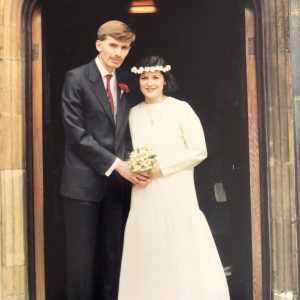 One of the important requests for the commission was to reuse the original diamonds and if possible, the original gold from both rings. Helen and I chatted through various ring ideas and we decided to go for a simple contemporary design. A wide 'D' shaped band with her diamonds flush set around the whole ring.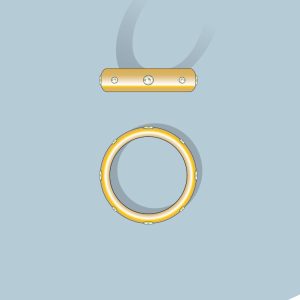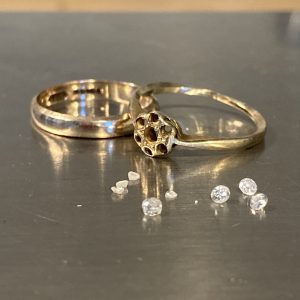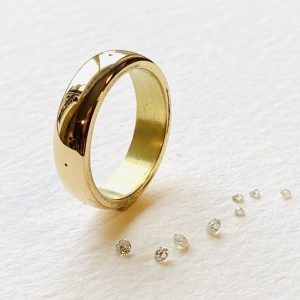 The diamonds, once removed from the original ring, and on closer inspection were not chips as Helen had thought but tiny antique cut diamonds. There were not quite enough remaining diamonds for the new ring, so as a surprise Mark and I added 3 new diamonds slightly larger in size to be spaced amongst the existing ones around the band. The addition of these three new brilliant cut diamonds would set the ring off perfectly. We also decided to make the whole ring in 18ct gold which would result in a much richer gold colour than either of the existing two bands.
To make this possible, I melted down the 9ct gold from the engagement ring and the 14ct from the wedding band, added a small amount of 22ct yellow gold, just enough to bring all the gold up to 18ct yellow. I made a master ring in silver which was then cast using the 18ct gold
The original diamonds along with 3 new sparkly ones were flush set around the ring. The finished ring not only looks fabulous on Helen but retains all the elements and sentiments of the original rings in a modern easy to wear style. In Helen's own words 'Thankyou for the ring its absolutely perfect!'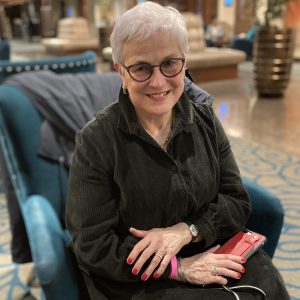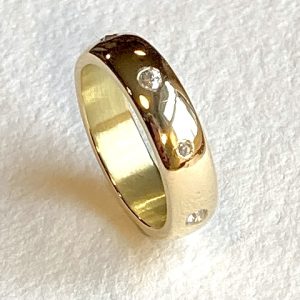 If you would like me to remake an item of jewellery and perhaps incorporate the original stones and precious metal, please contact me to discuss the possibilities. An old and tired piece could be transformed into something beautiful and contemporary with a whole new lease of life.
Also if you would like to look at Helen's beautiful scarves check out her website here!!      https://helenchattertontextiles.co.uk